About Us
Alexis Weigand Real Estate Group
At Alexis Weigand Real Estate Group, we strive to be your real estate solution and build long lasting relationships with you, our client. We've managed countless transactions for both domestic and international clients and are dedicated to providing you the highest level of customer service and personal attention.
As one of the top real estate groups in San Antonio and one of the Platinum Top 50 realtors for four consecutive years, you can expect a trusted and experienced advisor that is with you every step of the way, who listens to your concerns and is continuously up to date on the real estate market to better serve you and negotiate the best possible price.
Let us assist you in your transaction; whether it's selling or buying your luxury dream home, your first home or investing in real estate.
Meet the Team
Alexis is the founder and Team Leader for the group. She grew up in a real estate family and her husband Chris is a local real estate developer so real estate is her passion and all she has ever known! A fourth generation graduate of The University of Texas in Austin, she grew up in Boerne and has loved being able to raise her three kids in her hometown. When she's not out championing the real estate world, you can find her in a yoga studio, cycling the hill country back roads, on her peloton on cold days or on the Fair Oaks Ranch tennis courts when it's beautiful weather! She's a bit of a health nut, an avid reader and a rockstar goal setter!
FUN FACT: Alexis was on the UT waterski team!
Alisa is a San Antonio native, born and raised into a self employed family. She studied Fashion Design and Real Estate in college, deciding at a young age that she wanted to pave her own way in business and build a life by design. Bringing her keen sense of style and passion for helping others, Alisa strives to be a role model for her daughter, Ella. You can find Alisa, Ella and her fluffy side kick, Squanto, hiking, biking and or on the basketball court.
FUN FACT: Alisa has never met a queso she didn't like.
Amanda was born in Laredo, TX and moved to San Antonio in 2004 after graduating high school early. She studied Biology at the University of the Incarnate Word while taking nursing and veterinarian classes on the side. She is bilingual, speaking both English and Spanish. Amanda is happily married to the love of her life, Chad. They have an adorable son(Vaden) and are expecting their second child in September. Amanda genuinely enjoys helping people (and pets); it is her passion. She and her husband have bought and sold several homes as well as a few commercial properties over the last few years. After experiencing the joy it has brought them, she wanted to take part in helping others experience that same happiness. That is why she became a real estate agent. When she's not working, she enjoys spending time with her family, cooking, traveling, and staying active.
FUN FACT: Amanda is actively involved in St. Jude Children's Research Hospital as well as to the ASPCA. These organizations hold a special place in her heart. She is also married to a "man" who has never eaten a vegetable in his life making her one creative cook!
Kristen Daniell is a San Antonio native. She graduated from Churchill High School and Angelo State University. She is married to her husband, Michael, and they have two children. Kristen has 12 years experience in education and 10 years of real estate experience. Kristen is very competitive, driven, and focused. She loves sports and is passionate about helping others. Her favorite thing to do is going to the beach and relaxing with a margarita!
Lauren was born and raised in Las Vegas, NV. She brings over 5 years of real estate experience to our team between working as an agent and facilitating transactions. She's a new wife, mom of one and dog mom to the cutest pup who acts more like a human than her human child. She is passionate about getting things done, helping others and enjoying life to the fullest. You can often find Lauren at the gym, exploring her new home of San Antonio, scrolling through interior design feeds or traveling!
FUN FACT: Lauren won the senior superlative for "Most Photogenic" in high school!

Melody is a San Antonio native. She brings 6 years of real estate experience to our team. She is passionate about helping others and is committed to meeting each of her client's needs. She has two spirited boys with her husband of 8 years, Bao. When she isn't out showing homes to her clients you will find her hanging out with her family and friends, riding the bike trails with her husband and sons, or exploring the great city of San Antonio.
Micaela was born and raised in San Antonio. She is a graduate of the University of Texas at San Antonio where she obtained her Bachelor of Business Administration Degree in Finance. Micaela is outgoing and loves to meet new people. She takes great pride in doing her best with any task and being as helpful as possible. Client relations is one of her favorite aspects of real estate and enjoys helping both buyers and sellers alike! On the weekend, Micaela likes to spend time with both friends and family. Whether it is hiking at Friedrich Park, going to the farmer's market at the Pearl or checking out new places to explore in San Antonio, she loves to be out and about!
Tiffani Morgan is native to West Texas and a graduate of Angelo State University, Tiffani began her professional career as a high school teacher/coach and personal trainer. She is a twenty-year resident of San Antonio, a mom of three, and wife of 24 years to husband, Scott. She is a foodie, fashion junkie, fit freak, traveler and high energy ! She's an expert at listening and understanding the unique needs of individual customers. This starts with a full appreciation for client lifestyles, and then finding creative ways to meet those needs through constant communication, problem-solving, and superior customer service.
FUN FACT: Tiffani once had to do an emergency landing in Reykjavik, Iceland-where she and her husband took full advantage and ran along the harbor, ate fish and chips, and spent the day at Blue Lagoon spa.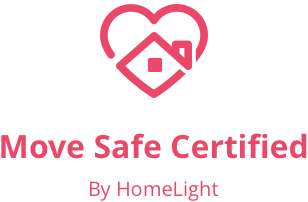 We're proud to share that we're
Move Safe Certified with HomeLight
! Our team is using the best tools and practices including meeting with clients virtually, practicing safety protocol for showings, and using an e-sign platform for the transfer and signature of documents. We're here to help buyers and sellers navigate through these challenging times